100Kin10 partner programs have increased emphasis on preparing and supporting elementary teachers with STEM skills, and in particular foundational math
"

Through research and project teams dedicated to addressing challenges to high quality elementary STEM education, 100Kin10 spurred partners to incorporate a stronger emphasis on STEM teaching and learning in their programs for both pre-service and in-service elementary school teachers.

"

- Bellwether Education Partners
Boosting Elementary Teachers' Math Confidence
The Intrepid Sea, Air, and Space Museum in New York City developed the Code Together program and received funding to support it as a part of 100Kin10's Fellowship program. Code Together brings together teachers and students to learn basic coding and explore ways to integrate computer science concepts into other subject areas. Teachers who have participated report feeling more comfortable taking risks and tackling new skills because they are learning alongside students who are new to computer science, as well. Code Together's shared learning model is intentionally designed to boost the confidence of teachers who feel unprepared or anxious about teaching STEM subjects—a common mindset among elementary teachers.
"

Without that experience, I probably wouldn't have dared to go into coding. It opened up a whole new world for me. It gave me a way to get started and gave me the courage to tell other people it's actually not that difficult.

"

- Maria DeJesus, Pre-K-3rd Grade Teacher and Code Together Participant
Increasing Attention on Foundational Math
In 2018, 100Kin10 launched its focus on a second catalyst, joyful and authentic early math learning. As a result, 55% of partners reported that they increased their focus on improving foundational math.
When reflecting on 100Kin10's work on foundational math, Kimberly Brenneman, a Program Officer for the Heising Simons Foundation, noted that the field's awareness of and attention to the importance of foundational math has been increasing in recent years, and she credits that in part to 100Kin10's efforts to seed collaborations among early math experts and call attention to the issue on a broad scale. In fact, in their evaluation of 100Kin10's impact, Bellwether stated that the focus on foundational math "was instrumental in bringing national attention from researchers, educators, funders, and others to the critical importance of joyful, hands-on early math instruction."

55%
of partners have increased their focus on foundational math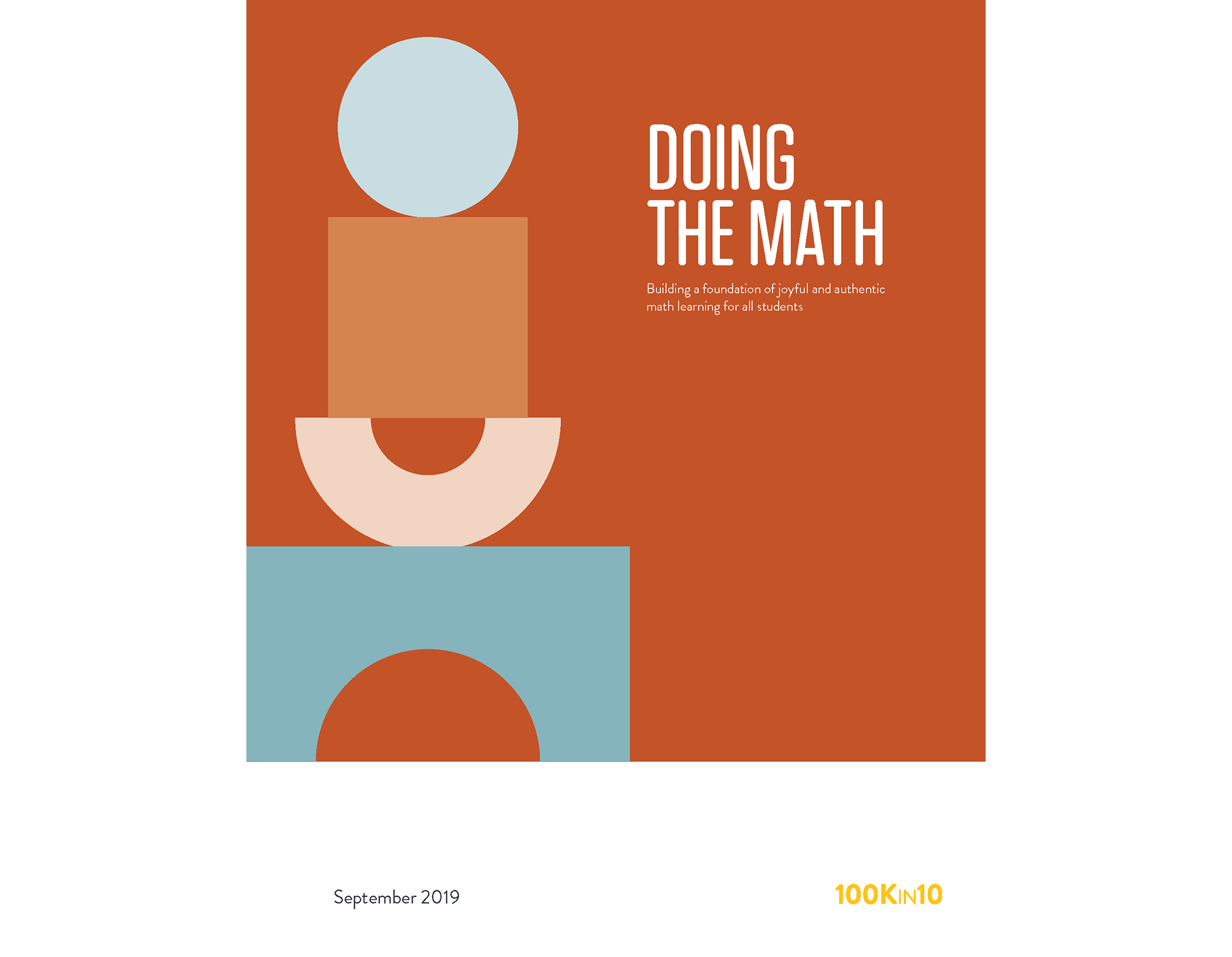 As Twana Young, Vice President, Curriculum and Instruction, at MIND Research Institute said: "Doing the Math is a report we share a lot with schools. Getting that report in the hands of district leaders and policy makers is really important, so they can start to think about those areas for early math learning."
Making Foundational Math More Culturally-Relevant
Dr. Lou Matthews of Urban Teachers in partnership with Colleen Hinds-Rodgers of Teach for America co-led a Project Team in 2020 to conceptualize Culturally Relevant Mathematical Practices informed by culturally-relevant pedagogy, practitioner insights and the Learning for Justice Standards. This work was intended to lift up and bring to life what all students bring to knowing, doing, and being mathematical, and the express power of applied mathematics.
"

We were given the space and opportunity to do that work by 100Kin10. We finished and launched the Culturally Relevant Mathematics Practices publicly at a site called www.relevantmath.org. It's been visited by people all across the United States and in different countries. I'm excited about that because that's fundamentally changing the way in which mathematics teachers are trained or STEM teachers think about what children should learn as they learn mathematics with authenticity.

"

- Dr. Lou Matthews, Director of Mathematics and Science at Urban Teachers
Reimagining Math in Elementary-Teacher Prep

Dewayne Morgan, Senior Director for Education, Outreach and Pipeline Development at the University System of Maryland, participated in a Team called "Transforming Foundational Math Pedagogy." He shared how fundamental this work was to the University's approach to preparing elementary teachers: "Our foundational math work with 100Kin10 [has been about] realigning how we look at our curriculum and making sure that it's more than just the content, but that we are intentional about making sure that our candidates can actually teach the concepts."