ENHANCED PROFESSIONAL DEVELOPMENT
More teachers have access to quality STEM professional growth and collaborative work environments via 100Kin10 partners
"

By focusing resources on improving professional growth for STEM educators—and through an additional special focus on fostering collaborative work environments—100Kin10 enabled partners to expand existing opportunities for professional development and develop new, innovative initiatives to foster teacher experimentation and shared learning.

"

- Bellwether Education Partners
How a Collaboration Grant Enabled Student-Led Instruction
In 2012, Brian Sims, former Managing Director at Academy for Urban School Leadership (AUSL), received a 100Kin10 Collaboration Grant to connect about the residency program at the University of Washington. While there, he learned about UW's "Ambitious Science Teaching" practices, which aim to support students of all backgrounds to deeply understand science ideas, participate in the activities of the discipline, and solve authentic problems. What he saw made an imprint on him and others at the AUSL team, so much so that a few years later Alissa Berg, then Associate Director of Science Curriculum & Instruction at AUSL, reconnected with the team at UW. With their guidance, she integrated these ideas into AUSL's teacher professional learning communities to support teachers in exploring and making strides on their own problems of practice.
To this day, AUSL teachers are seeing the benefit of seeds planted almost 10 years ago with a small Collaboration Grant. Andy DeVivo, a 4th Grade Bilingual Math and Science Teacher at Tarkington School of Excellence (an AUSL-managed school), said, "As a new teacher, I was someone who wanted a lot of control over learning. It was difficult for my students to be inquiry-based scientists, to explore, to be wrong and to be okay with it. Becoming a member of the learning community and observing other classrooms allowed me to watch students fail, and watch teachers support them in that failure, and watch the growth that happens. Now every science lesson that I do — so much of it is student-focused, student-led, and that wouldn't have been possible without the PLC."
"

Becoming a member of the learning community and observing other classrooms allowed me to watch students fail, and watch teachers support them in that failure, and watch the growth that happens.

"

- Andy DeVivo, 4th Grade Teacher
Teacher Voice Drives PD Across Arizona and Beyond
Many partners tackled issues around professional development through Project Teams. For example, the Data-Driven Professional Development Project Team brought together seven Arizona organizations interested in centering teacher voice in the design of STEM professional learning. The team developed and administered a needs assessment survey to gather input directly from teachers about the kinds of professional growth opportunities and supports they found most useful.
Project Team member Darcy Moody, Director of Advocacy and Program Development in Maricopa County Schools in Arizona, explained that the findings from the survey influenced professional development initiatives across the state: "We were able to share data with districts about what kinds of support teachers were seeking as far as content or pedagogy and what was it that they needed to be able to move their practice in STEM instruction. I can think of several of our Arizona partners who have taken that learning and that feedback and really tried to embed it in their practice here." The research from the Project Team was disseminated across the 100Kin10 network, enabling other organizations and educators around the country to improve their professional development practices.

Raising the Profile of Teacher Work Environments
In 2018, 100Kin10 began work on its first high-leverage catalyst -- positive work environments for teachers. School buildings are not only places where young people go to learn. They are also the workplace for millions of adults. Fostering schools as generative and productive for teachers is critical: when teachers thrive, students thrive, too.
The work began by compiling research on best practices in a report entitled "Teachers at Work", providing a starting place for the collaborative work to come, and exploded from there. Three years later, there have been 16 Project Teams including 73 partners tackling issues of work environment. And 69% of partners report an increased focus on nurturing positive work environments for teachers as a result of the network's priority.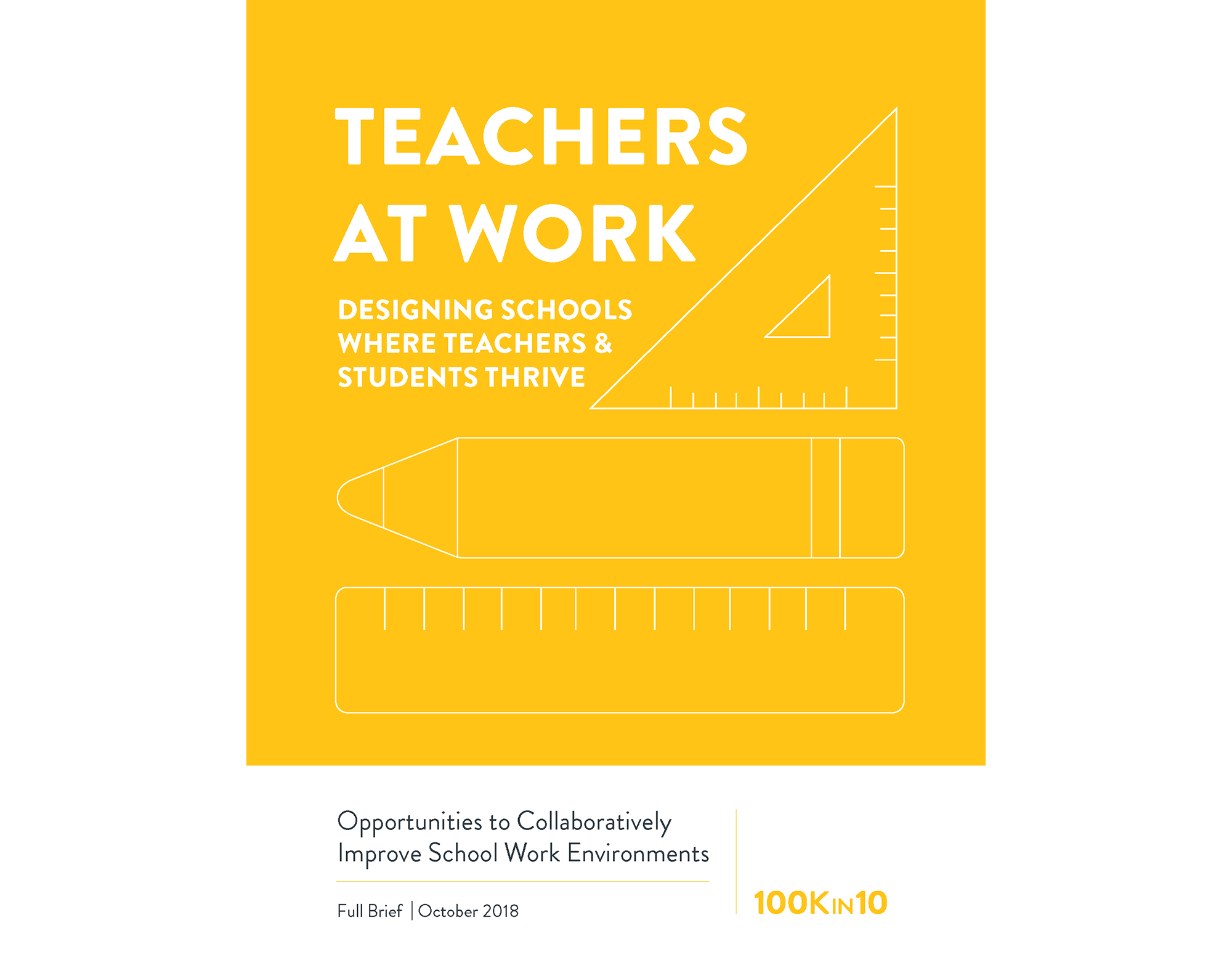 Supporting States and Districts to Institute STEM Mentorship
A group of partners led by Jenny Hicks, Director of K-12 STEM Engagement at Purdue University in Indiana, joined a Project Team to develop a toolkit for states and districts to adapt in developing their own STEM mentoring program, taking the baton from a prior Project Team that had created PD modules for training mentor teachers. Hicks and her team understood how critical teacher-mentorship is to a healthy school culture, a positive work environment for teachers, and the retention of new and seasoned STEM teachers. "There were so many useful resources in it," Hicks said. "The toolkit represents the work of six people, and it's all resources we use in our daily work."
69%
of partners have increased their focus on nurturing positive work environments for teachers
Empowering Teachers to Shape their Work Environment
100Kin10's focus on work environments even reached teachers directly. As Carly Baldwin, 100Kin10 Teacher Forum member and Chemistry teacher at Boyd County High School, reflected: "100Kin10 gave me the research I needed to present to my administration that my classroom might look 'weird' to some but was actually based on evidence. Whenever I presented him with some of [100Kin10's] white papers, or some of their research around retention or teacher workforce, my principal was very appreciative of that because if anybody then asked, he had the evidence he needed to support me more."